Are you looking for healthy cookware? This cookware is pure ceramic. Not to be confused with the nonstick cookware, this one is 100% ceramic and the surface will not wear. It is 100% non-scratch and with care should last you a lifetime!
What This Covers…
Is This 100% Non Toxic Cookware?
Listen to an expert in non-toxic living on why 100% ceramic cookware means healthy cooking…
What's So Good About 100% Ceramic Cookware?
Apart from being non-toxic, check out this list:
✓ Totally recyclable because they are 100% ceramic pans
✓ Eco-friendly ceramic cookware sets
✓ Durable and long-lasting ceramic pots with lids
✓ Best for slow cooking
✓ Super easy to clean
✓ Healthy cooking with reduced fat and oil requirements in cooking
✓ Even cooking once properly heated
✓ Free of hazardous PTFE & PFOA*
✓ Non-reactive with acids. So, no leaching of toxins into your food*
✓ Proven to have no metals and guaranteed non-toxic
*qualities that make these preferable to other non-stick cookware. These are the real ceramic cookware.
✳ Versatility
I just love that they are designed so that you can take the cookware directly from the stove-top to the table for serving and then later store the leftovers in the same container. To me, this means less hassle and fewer dishes to clean.
✳ High Heat Resistance
The pieces are designed for very high heat resistance (up to 2500 ºF). The whole unit of each pot (lid and handle included) can go straight into a hot oven.
✳ Less Clean Up
Being designed for cooking, serving, and storing of food, all in the one pot, saves on cleaning up and minimizes the need for various other kitchenware.
✳ Rivet Free
Also, the cookware is rivet free with molded handles, so there you'll have no worries about hygiene and cleaning around any riveted areas, or the handle working loose.
✳ Eco-friendly
The product is eco-friendly. The maker claims they craft the product from natural minerals and water and fire the product in kilns using safe natural gas, meaning clean burning and no pollutants emitted into the air. In addition, all water used in the process is recycled.
Being made of pure natural minerals, means no nasties and so these products can be totally recycled or disposed of without environmental harm.
About the Xtrema Design
Takes 20 days to complete the making of this cookware made of light-weight pressure cast ceramic with a scratch-proof ceramic glaze finish.
Each piece is cast in a mold under high pressure and then triple-fired at extremely high temperatures (2,500ºF) for strength and durability.
About The Manufacturer
The manufacturer is Ceramcor, which has over 50 years experience in the ceramics industry.
Ceramcor is an American company that has facilities for manufacture in Southern China, where the art of ceramics has been honed over tens of thousands of years, which is why China ranks #1 in the world for crafting of ceramics.
The makers of Xtrema 100% ceramic cookware claim:
Each piece is formed in a high-pressure casting mold and triple-fired at 2,500 degrees Fahrenheit, for strength and durability. United States, Canada and the European governments require scientific laboratories to prove that all cookware does not extract lead or cadmium. Certified tests are the FDA and California Prop 65 test result for lead and cadmium are all 24-hour extraction tests which are the Gold Standard tests for heavy metals in the cookware industry. There are no nano particles used in the manufacturing of our Xtrema cookware.
Xtrema 100% Pure Ceramic Cookware Designs
There are two main cookware designs: A single long-handle style, the Traditions range, and a style with a short handle on each side — the Versa 100 ceramic cookware range. (See images)
Single Pots of Pure Ceramic
As a single pot, these make a healthy addition or replacement in your existing set. The beauty of solid ceramic cookware is that they will last a lifetime and are versatile to use for cooking, serving, and then storing in the one container.
In the singles range, pot size ranges from 16-oz right through to 8-quart.
Traditions 8 Piece Ceramic Cookware Set
In the 100% ceramic pan sets, once again you can choose a Traditions style with the long handles. There is this 8-piece set (shown) with four ceramic cooking pots with lids: a 16-ounce, 1-quart, 1.5-quart, and 2.5-quart.
Versa 8 Piece Ceramic Cookware Set
The Versa also has an 8 piece set (shown), which includes three pots with lids and a set of silicone handle holders.
Looking for a Starter Set?
Looking for something smaller to start with? Go for this five piece set…
What to Love About Solid Ceramic Cookware
The 100% ceramic cookware shown above features all the advantages listed for the non-stick ceramic cookware (minus rapid heating), and more.
Eco-friendly cookware. This 100 percent ceramic cookware is made of molded natural clay and finished with a natural ceramic glaze. The design feature to love about this set is its pure ceramic nature, which means it's totally recyclable and eco-friendly. It is 100% natural and guaranteed non-toxic with no lead or any other harmful metals. So being 100% ceramic, there is no potential for leaching of nasty chemicals like PFTE or PFOA. I wrote about the concerns regarding these in this article.
Being 100% ceramic, there is no potential for leaching of nasty chemicals like PFTE or PFOA.
As far as energy consumption in the manufacture of ceramics, the most energy-intensive area is the firing and drying of the clay. It is considered less energy intensive than the manufacture of primary metals.
Lightweight pots. This solid ceramic cookware is relatively lightweight. While the ceramic pots are much lighter than cast iron types (you can read my review of some top-rated cast iron skillets here) types , they are slightly heavier than aluminum or the ceramic nonstick types ( my review of some popular nonstick ceramic frying pans include their pros and cons).
They are 100% non-scratch
Insulation. As a bonus, it will keep your food warmer than conventional containers when waiting to serve food that is ready to be eaten.
Functionality – Stove to table cookware. After mealtime, the remaining food can be simply covered with the lid and put in the refrigerator in the same cookware container. Voila!
The cookware has a 50 year warranty for breakage while cooking and against scratching. It is claimed to have a 100% non-scratch cooking surface and exterior. Being solid ceramic, you do need to avoid run-ins with hard surfaces.
Handles. Handles are part of the mold, so there are no rivets or screws to cause concern with hygiene or cleaning.
What to Watch
If you are looking for cookware that offers fast heating, solid ceramic cookware is not for you. This type of cookware heats slowly but cooks thoroughly.
Because of the transfer of heat through the 100% ceramic cookware, you will need pot holders when transferring the pots from the stove to the table or bench as the handles can be hot to touch, especially after being over high heat.
Because they are solid ceramic, they will break or crack if dropped or hit with some force.
Price
This cookware is more expensive than other conventional metal cookware types based on stainless steel, cast iron, or aluminum. However, with care, it will last you a lifetime and the upside is the pure ceramic construction without the concern of leaching of toxins into your food.
Where to Buy Xtrema Cookware?
You can buy some Xtrema cookware at Amazon! Check the ceramic pots out or shop now!
But there's more to see at the company itself, where you'll also find sale offers!
Often these pans are on sale at Xtrema. See the latest prices here at Xtrema.
---
FAQs
What is Pure Ceramic Cookware Best For?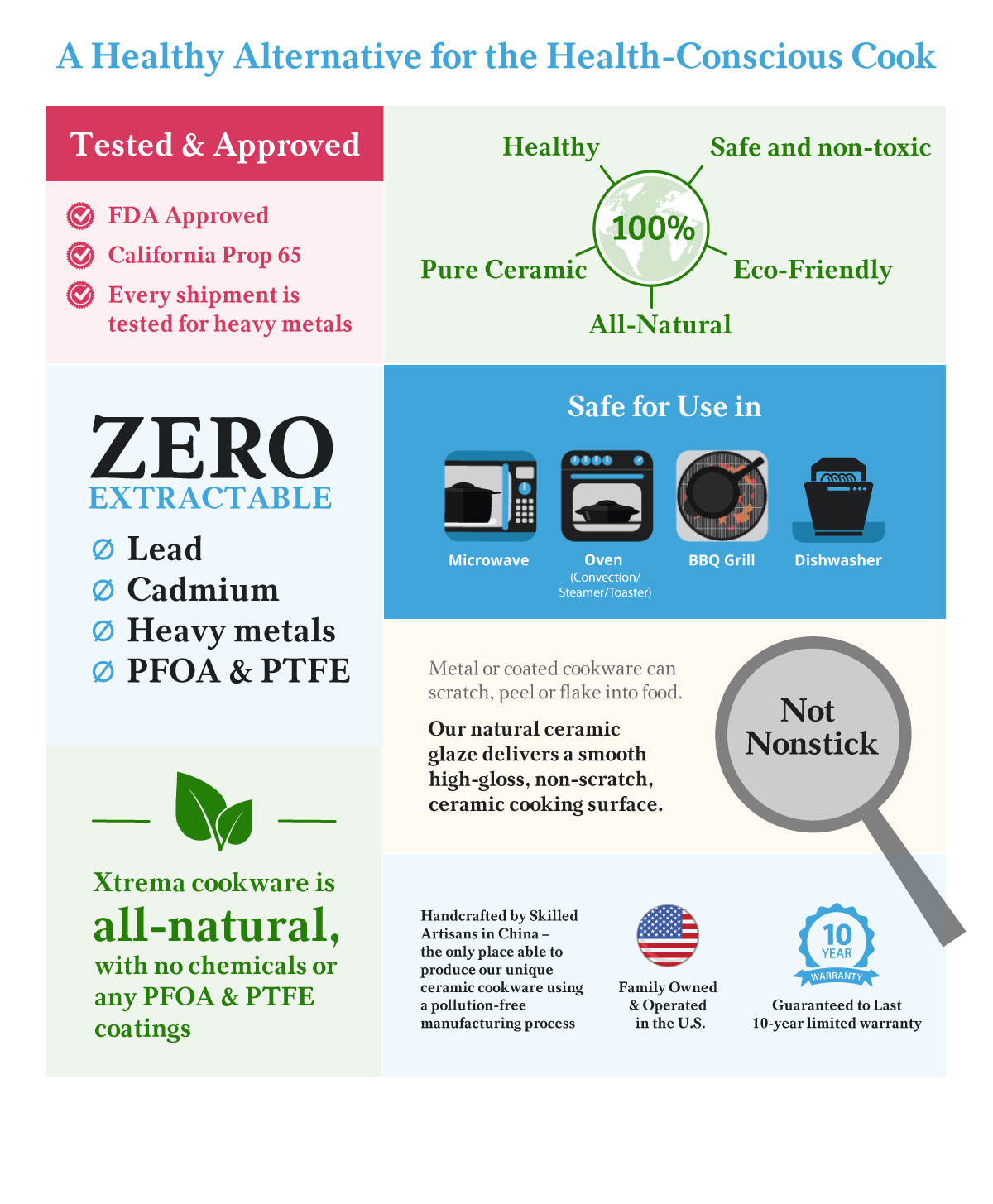 Slow cooking. Solid ceramic cookware is best for slow cooking styles. It is perfect for oven use as it can withstand very high temperatures and will last you a lifetime with care. But you can still cook everything from eggs, meat, oatmeal, to vegetables using this product. The best part – it perfectly locks in flavor without the harmful chemicals.
Flavor. Pure ceramic cookware, like the Xtrema range, locks in flavor and nutrition in the foods you cook. They are ideal for wholesome slow cooked meals or meals in a dish that can go from stovetop or oven to the table, all in the same ware.
Pure taste. If you want to avoid toxins and metals entering your food, then go no further than this 100% ceramic cookware. This cookware is free of PTFE, PFOA, lead and other harmful additives, making it the safest to choose. It is especially the safest cookware for tomato-based soups/casseroles or cream sauces. You may not realize the adverse effect of metal on the taste and wholesomeness of this food.
Versatility. Rather than that old faithful metal pot, use this non-reactive cookware for cooking, serving, and storing the types of food that are acidic. The Xtrema ceramic pots are perfect for this as they are metal-free and can be used for all three purposes: cooking, storing, and serving. The pots are also microwave-safe.
Oven cooking. This Xtrema 100% ceramic cookware set is said to withstand high temperatures (up to 2500 ºF), and so is ideal for oven cooking.
What Are The Main Design Features of the Xtrema Cookware
The five basics of good cookware:
Thick Base. The Xtrema cookware has a thick flat base. It is 100% ceramic cookware, meaning no metal layers. For this reason, heating is not as rapid as aluminum based cookware and on gas stove burners and electric coils without a center heat force, the center of the base will take longer to heat up than the rest of the base.
Sturdy Handles. Molded handles make these sturdy. There are no rivets or screws to work loose over time. The long handles allow you to safely transfer the food from the stove to the kitchen bench or table. Just be aware that the handles may get hot to touch if positioned over a heat source. It is best to use potholders, and these are supplied in this set. When lifting always use the potholders for safety. As well, when cooking, position the long handles on the cooktop so that they are not over the hot element.
Exterior Finish. The outer surface of the Xtrema set is hardened and is 100% non-scratch. It is a glazed ceramic finish that resists stains and will be super easy to clean.
Solid Lids. The lids of this pure ceramic cookware are not clear view glass. So, you will need to lift the lid to view the cooking process. I don't have a problem with this as I find I lift glass lids anyway with heat causing condensation that hinders any clear view. The lids are loose fitting but still lock in flavor while allowing the escape of excess moisture.
Oven Safe. The great thing is that, because they are 100% ceramic, they are perfect for the oven, resisting higher temperatures than their counterparts. This Xtrema ceramic pots and lids are suited to hot oven cooking as they can withstand temperatures up to 2500 degrees Fahrenheit.
How to Care for 100 Percent Ceramic
With proper care, this cookware set will last you a lifetime.
Before first use. There is no need for seasoning of this product, just a soapy wash and rinse first up and you are ready to go!
Cleaning. The surface of the cookware is tough and easy to clean. All that is needed to clean the ceramic finish is a nylon brush or a pad like the SOS, Comet, or Scotch Brite types. Note: This item is dishwasher safe, but I recommend handwashing for longevity. IMPORTANT: Mind you, this applies to all types of cookware: Do not pour cold water on the product while it is still warm or hot. Allow to cool and then use warm or hot water.
Utensils. Because the surface of this 100% ceramic cookware is hardened, metal utensils won't leave scratches but rather gray marks (the ceramic is tougher than the metal alloy). So, always use wooden or nylon utensils when cooking with ceramic cookware. This set comes with a 3-piece nylon tool set.
Storage. You should store the ceramic pots separately rather than nesting them and place the individual lid upside-down on the respective pot to avoid damage.
How to Cook With Pure Ceramic
The 100% ceramic cookware is not entirely non-stick however with slight greasing of the pan needed.
If you decide on an Xtrema skillet for frying or searing, make sure to add a smidgen of grapeseed oil or other high-temperature oil when using it to cook eggs or shallow fry bacon etc. Always apply your oil first before heating the pan or skillet and add more as needed to prevent food from sticking.
These are good cookware sets for slow cooking and for cooking, serving, and storing in the one vessel = less to clean. Because they heat slower than metal pans of stainless steel or aluminum, you will need to allow a few minutes more for this heating when cooking. They will also retain their heat longer than the conventional metal pans.
Summary
Pros
50-year warranty against breakage during cooking & scratching
100% natural. No leaching chemicals. Non-toxic.
Locks in flavor and goodness. Cooks thoroughly.
Rivet free smooth surface. Easy cleanup. No seasoning.
Can be used in the microwave.
Use the same pot on stove, table, and in storing food.
Oven and stovetop safe to 2500 °F
Cons
Not for cooking that requires fast, high heat distribution
Handles may get hot at high heat
Not as lightweight as the ceramic non stick type
More expensive than metal types
Fragile if dropped on a hard surface
Final Thoughts on the Xtrema Cookware
Being 100% ceramic means no metal layers. So, not only can the pots be used on the stove top and oven, but they can also go in the microwave. However, if your cooking style requires rapid heating on the stovetop, you might want to check out the ceramic non stick cookware, as the best pans for you are ones with metal layers.
Things to Love in a Nutshell
This pure ceramic cookware has all of the features of non-stick ceramic cookware (with the exception of rapid heating), plus more.
This product is versatile. It can go on top of the stove, under the broiler, in the dishwasher, and in the refrigerator or freezer.
Can be used on a stovetop, oven, microwave, toaster oven, in a convection oven, steamer oven, and grill.
It can be confusing choosing the best cooking pots. The cost and quality of 100% natural put these type in the high end cookware range.
Remember…this cookware will last you a lifetime with care.
It is designed for cooking, serving, and storing – all in the one pot for complete convenience and ease of presentation and cleanup. It is also great for locking in pure taste and goodness in cooking.
As is most likely stated in other Xtrema cookware reviews, this 100% ceramic product can be more expensive than other ceramic types – like the T-fal Initiatives I reviewed, but its durability, and its long life, as well as the healthy cooking that it offers, make it a worthwhile investment.
The thing I love the most, apart from it being a 100% natural product, is its functionality. That is, being able to take it from stovetop to the table for serving and then to the refrigerator for storage. Consider 100% ceramic for healthy cooking, style, and versatility.
---
Still unsure which ceramic cookware set to buy? Check out my ceramic cookware buying guide!
Looking for a set of sharp kitchen knives? See my guide and review of ceramic knives and my article on how to sharpen them here.
You May Also Like…